We live in a world of smart cars, smart homes, smartwatches, and smartphones. Smartphones are pretty impressive devices, and they make things a lot easier for us with their impressive operating system, hardware, and application. Between Andriod smartphones and the iPhone dishing out great devices each year we could use in different ways.
READ: Best Andriod Phone in 2018
Sometimes, the use case of a smartphone goes beyond the invention, and for such time you need an accessory that will aid you in whatsoever need you have at the moment. Some accessories are specifically designed for some phones while most would fit into any smartphone.
Best Smartphone Accessories
Here are ten best smartphone accessories you can get to enjoy an out of this world experience with your smartphone.
Car Mounts
You can use your smartphone as a navigating device, and if you tend to use it as such, you would need to get a car mount. There are some pretty significant mounts you can select from, and they are affordable as well.
One good option would be the Bracketron Mi-T Grip equipped with a suction cup which will keep it fastened to most surfaces in your car, while the grippy claw holds your phone securely.
iOttie's Easy Touch Car Mount Holder is another excellent option to use as your car mount. While if you want to mount your phone to your windscreen, the WizGear magnetic car mount holder is for you fix.
Power Banks
The importance of a power bank cannot overemphasize in today's world. It seems we have smartphones and dumb batteries. So do not allow your phone battery run down when you need it the most, get a power bank. No matter the battery capacity of your phone you just might need a power bank.
The TeckNet Waterproof Power Bank 9000mAh is an excellent power bank if you love going on a camping trip. This power bank will be able to keep your device fully charged. Its other advantages include having a compass, flashlight and being waterproof, shockproof and dustproof. Another fresh offering is the RAVPower 20100 mAh Portable Charger.
Arm Bands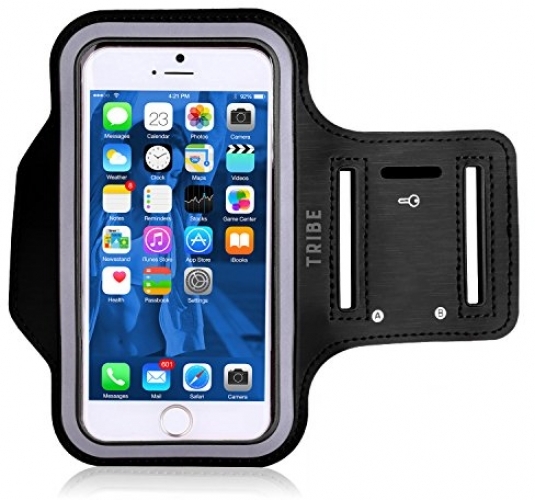 Keeping fit has been made a lot easier with fitness apps. But then how do you hold your phone as you carry out your routine? Arm Bands to the rescue, the Tribe AB37 Sports Arm Band is water resistant, full touch screen coverage features a key holder, full touch screen coverage as well as a 3.5 mm jack support. The armband is even available in a more extended version aimed at devices with larger displays ranging from 5.2 to 6-inches. The armband is available in large units that can accommodate 5-6 inch screens.
Bluetooth Earbuds
Stay connected to your phone with a Bluetooth Earbud. To enjoy wireless connection, you can get the SoundPEATS Q12 Bluetooth headsets or Jabra Elite Sport.
Selfie Sticks
Selfies sticks have become increasingly popular with the selfie rage. Why stress my arm when I can capture more with my selfie stick.
The Anker Selfie Stick offers you Bluetooth selfie, 20 hours of battery life, compact and adjustable cradle and extensible to 29-inches. Other great selfie sticks include the Accmore Selfie Stick which works with a tripod.
READ: Tips How to Take a Selfie with your Dog – Power of Dog Selfie Stick
Screen Protectors
Protecting your phone is of utmost importance as that is why getting a Screen protector or screen guard is very essential. You can check on Unlimited Cellular yo get the screen guard that suits your phone best.
Cases and Covers
The first accessory most people would get for their phone is usually a case or cover. It guards your phone against minor scratches and beautifies your phone.
There are popular manufacturers you can select from such as Spigen or Otterbox or you can head off to Unlimited Cellular.
Camera Lens Attachments
Pictures are a great way to publicise your business, but then you are equipped with just your phone camera. To improve your camera performance, you can always get a get a camera lens attachment.
There are different camera attachments available for your camera eyes such as the CamKix 3 in 1 Camera Lens Kit for fisheye lenses, macro, and wide-angle or the OldShark Camera Lens Kit.
Car Chargers
Car chargers are such a lifesaver when you find it hard to carry around a portable charger. You can charge your phone while traveling. There are lots of car chargers you can select from Unlimited Cellular has no shortage of them.
USB OTG Flash Drives
The USB OTG Flash drives are such great accessories to have. They can use. They are like portable hard drive to a smartphone, and you can use them as storage when your phone's internal storage isn't enough.
SanDisk offers OTG flaps drives for iPhone or iPad, the iXpand Flash Drive.